Product Detail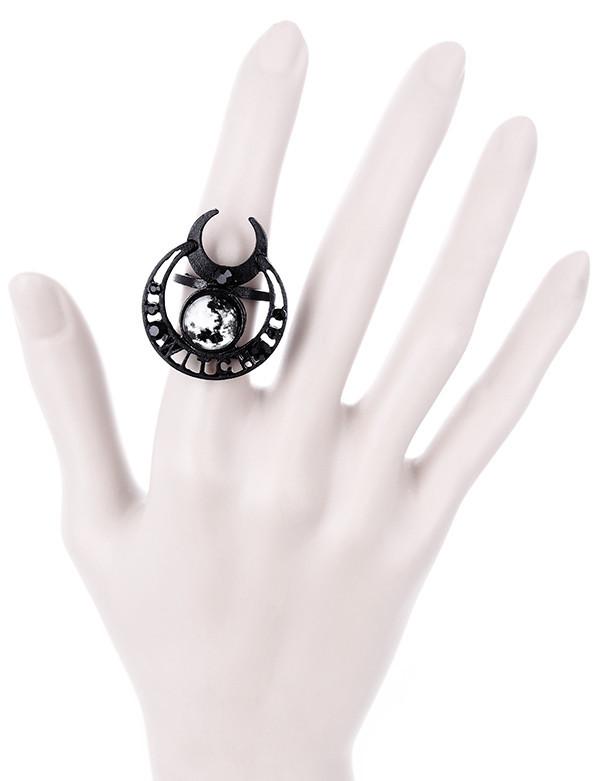 This cool Crescent Moon in Luna Moon Ring features double crescent moon with laser cut inscription of Witch inside of the crescent moon with full moon accent.
1 1/16" Diameter
Matte black tone
Sizes  : 16, 17, 18 ( See ring sizing chart)
Size Info
Tagged 16 ( Fits like US women ring 5)
Tagged 17 ( Fits like US women ring 6)
Tagged 18 ( Fits like US women 8)
About Sizing
We want you to make the best possible purchases from our store and we list measurements very carefully. To avoid disappointment please check your measurements very carefully as sizing structures vary between brands and items to ensure this garment will fit you. If in doubt please contact us with your measurements and we can advise you whether the item will fit you.
How to Measure
A few things to keep in mind:
We carry many different brands and each brand can fit differently from size to size.
Special Occasion/Evening wear tends to run smaller than "Ready-to-wear" clothing….some times as much as 2 sizes so please be open to a size that might not be what you would consider normal.
We are happy to cross reference your measurements with the vendors size chart and suggest the best fit.  This must be done on a brand by brand basis as we carry several different brands.
Measuring yourself does not always get the most correct number……have a friend help!
Shipping Info
Once order is received and payment is cleared, we process your order within 24HRS - 48HRS. We use USPS, and UPS to ship all orders depending on the order weight and size. At this time, customers cannot choose which shipping carrier they want us to use.
We do not ship internationally at this time. 
Our shipping rates are below :
$14 Express ( USPS Priority mail)  : For orders placed before 10 a.m. EST, delivery is 2-3 business days, Monday-Friday
$6 Standard Delivery - Orders less than $100 : Estimated delivery in 4 to 9 business days, with delivery Monday-Friday
Standard Delivery - FREE for orders over $75 ( transit time typically 5 to 9 business days, with delivery Monday-Friday
$8 Ground : After your order is processed, transit time typically 4 to 5 business days, with delivery Tuesday-Friday